Greeting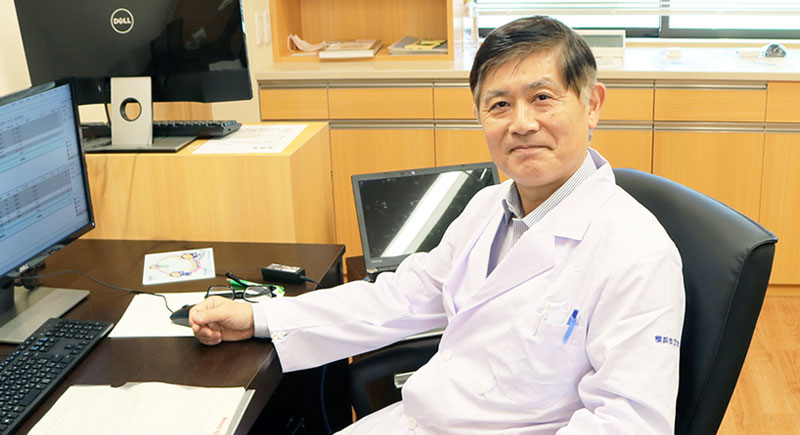 I am Susumu Isoda, MD, PhD, Director of Heart Clinic Fujisawa Mutsuai. I have been dedicating my life time to care for circulatory diseases and management of general conditions of patients for three decades. I am proud to be able to provide supreme medical service by making use of my experience as a hard- working physician where such hard-working will not be allowed anymore in the era of the work style reform. Please ask questions regarding not only, heart, blood pressure, or circulatory organs, but also various problems of yours. We will make sincere response to your problems.
We would like to put our effort into providing healthy life expectancy, joyfully. We would like to prevent wasting your life by lack of suitable medical support. We are happy if we can provide something for you. Since symptoms of lethal diseases sometimes can be trivial or minor, please do not hesitate to consult us about small things.
Susumu Isoda, MD, PhD,
Director
Board Certified Member of The Japanese Circulation Society, Certified Member of Japanese Board of Cardiovascular Surgery.
Service
We cover departments of Cardiology, Cardiovascular Surgery, and Internal Medicine. We provide minor surgical treatments.
We will provide suitable medical treatment for your problem. We hope you can reserve your clinic appointment through WEB. If you cannot do so, please give us a call before your arrival since our clinic only accept reserved patients. You might need to wait for hours if you do not have the appointment. Although we are specialized in circulatory diseases, we see your internal medical problems of your whole body. We supply simple surgical treatment.
In the case you need referral, we will refer you to suitable clinic or hospitals.
If you are a tourist and you have medical tourism insurance, you will be reimbursed for your medical expense (approx. 5000-10000 yen) while you will be charged for the English medical certificate (approx.3000yen). If you have Japanese medical insurance, your payment will be approximately from 2000-3000 yen.
Features
WEB-reservation
WEB-interview
Cashless (Credit card available)
Night opening until 7 pm on Friday
Opening 9-12am on Saturday, Sunday, and National Holidays.
Parking available (16 lots)
3 minute walk from Mutsuai-Nichidaimae East Exit
Equipment and Examination
Electrocardiogram (ECG)
Holter ECG (24h )
Portable ECG (lease for weeks to detect arrythmia )
Treadmill Exercise ECG (to detect effort angina pectoris)
High-end Echography machine (Phillips Affiniti 50)
Echography for heart, neck vessels, abdominal organs, and vein
X-ray (Low exposure flat panel DR)
Spirometer (respiratory function test)
Sleep Apnea Syndrome Test
Pulse wave test (check for atherosclerosis, diseases of leg artery)
In-clinic rapid examinations (BNP for heart failure, PT for artificial valve, atrial fibrillation, pulmonary embolism, Trop-T to test myocardial infarction, HbA1C for diabetes mellitus, D-dimer for thrombus of vein and pulmonary artery)
Smile and Hospitality
Access and Contact
Heart Clinic Fujisawa-Mutsuai
Director: Susumu Isoda, MD, PhD
Departments: Cardiology, Cardiovascular Surgery, Internal Medicine
Address: 2-7-1 Kameino, Fujisawa City, Kanagawa, Japan ZIP252-0813
Train station: Mutsuai-Nichidaimae St., Odakyu-Enoshima line, (3 min walk from the east exit of the station, behind Bank of Kanagawa, next to Mimura Brain Surgery Clinic)
Parking: 16 parking lots
Phone: 0466-52-8200
Fax: 0466-52-8050
Director Direct Line 0466-52-8200
E-Mail

電話番号

0466-52-8200

住所

〒252-0813 神奈川県藤沢市亀井野2-7-1

最寄駅

小田急江ノ島線 六会日大前駅 東口徒歩3分
診療時間
| | 月 | 火 | 水 | 木 | 金 | 土 | 日祝 |
| --- | --- | --- | --- | --- | --- | --- | --- |
| 9:00~12:00 | | | | | | | △ |
| 15:00~18:30 | | | ― | | | ― | ― |
| 18:30~19:00 | ― | ― | ― | ― | △ | ― | ― |
:予約優先 △:予約限定